USB digital media data recovery
Professional USB digital media data recovery software is used to restore deleted photos, pictures, text documents, music files, audio, video, images and other important data stored in removable media device. USB Removable media data recovery software recovers files lost due to accidental deletion, disk formats, virus attack or similar kind of failure to access data.

Removable media file recovery software supports data restoration from all major removable disk drives such as USB drive, Key drive, Mobile communicator, Memory cards and other equivalent USB devices. Software retrieves data from major USB drive brands such as Sony, Samsung, Toshiba, Kodak, Konica, Kingston, Nikon, Transcend etc. saved in mpeg, jpeg, jpg, wav, doc, mp3, gif, txt etc file formats. USB drive file rescue utility helps to get back files in few mouse clicks without requiring specified knowledge to run or operate the software.
Software Features:
Fast and affordable tool to salvage lost files from various removable media drives.
Compatible with all major pen drive manufacturers such as Transcend, Kingston, SanDisk and many more.
No need of specified technical knowledge to run or operate the software.
Easily works with Windows operating system including Win 98/2000/XP/VISTA.
System Requirements:
Minimum system requirements:
Pentium-class or equivalent processor
12 MB of free space
RAM (128 MB recommended)
Operating System Supported:
Windows 98, Windows NT, Windows 2000, Windows Server 2003, Windows XP, Windows Vista, Windows 7 etc.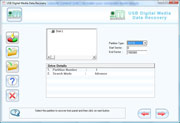 Just $69