NTFS partition data recovery
NTFS partition data recovery software enables IT professionals and home users to salvage lost or deleted data from NTFS file system partitioned hard disk drive. Data Recovery tool with all advanced features allows users to recover files lost due to accidental deletion, file system corruption, improper system shutdown or any other type of data loss situation. File recovery Software easily retrieves data from major disk drives including IDE, EIDE, ATA, SATA and SCSI drives available in Seagate, Quantum, Toshiba, Western Digital and other popular hard disk brands.
NTFS data recovery software retrieves and recovers data including text documents, audio/video, images, pictures etc from NTFS and NTFS5 file system supported HDD. Software provides user friendly interface and saves recovered list of files at user specified location in text file. Offers optimized recovery of lost data with simple recovery procedure that can be operated by home as well as office users without requiring specified technical assistance.
Software Features:
Recovers files and folders lost from computer hard disk drives in very less time.
Supports both NTFS and NTFS5 file system.
Smoothly works with major hard disk manufacturers such as Quantum, Seagate, Hitachi and many more.
Do-it-yourself utility does not require specified knowledge to run or operate the software.
System Requirements:
Minimum system requirements:
Pentium-class or equivalent processor
18 MB of free space
RAM (128 MB recommended)
Operating System Supported:
Windows 98, Windows NT, Windows 2000, Windows Server 2003, Windows XP, Windows Vista, Windows 7 etc.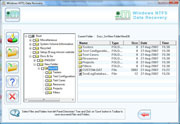 Just $69