Memory stick files recovery
Memory stick file recovery software is capable to retrieve files lost, deleted or erased from pen drive storage media. File recovery software retrieves important office documents, music, pictures, video, images, photographs and other files and folders from pen drive data storage media. Pen drive is utilized by users due to the ability to transport data more easily from one computer to another in handy manner, but data can be easily lost due to accidental deletion, disk formats, human error or other similar data loss problem.

Advanced pen drive file restoration utility offers all-in-one solution to recover data from major pen drives (commonly known as Key drive, Jump drive, Data Traveler, Thumb drive etc.) USB drive file recovery tool recovers data with support to Kingston, SanDisk, Transcend, Sony, Konica and other latest brands available in all capacities e.g. 64MB, 128MB, 256MB, 512MB, 1GB, 2GB, 4GB and even higher capacity drives. Easiest Data retrieval software restores files before you fix and repair your corrupted or logically crashed pen drive storage device.
Software Features:
Rescue images (jpg, gif, jpeg), text files (txt, doc), audio-video (mp3, wav, mpeg etc) from USB thumb drive.
Support all major pen drive manufacturers.
Provides user friendly software interface with excellent features to restore lost files in easiest way.
Easily works under Windows OS environment including Win VISTA/7/XP/2009/98.
System Requirements:
Minimum system requirements:
Pentium-class or equivalent processor
12 MB of free space
RAM (128 MB recommended)
Operating System Supported:
Windows 98, Windows NT, Windows 2000, Windows Server 2003, Windows XP, Windows Vista, Windows 7 etc.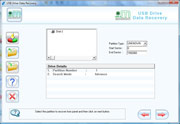 Just $69