iPod music files recovery software
iPod music files recovery software retrieve lost or accidentally deleted music, songs from iPod music player device. Music from iPod can be lost because of many reasons, it may be accidental file deletion, disk formats, virus corrupted drive or other various data loss problems. iPod files retrieval software scan entire disk and restore data in very less time. Software is designed and developed to provide high quality and reliable recovery of all type of music files and save them at safe location without requiring any expertise knowledge to operate the software.

Software is helpful to retrieve and restore lost music, songs, photo, video, pictures, images and all previously existing data on your iPod. Software restores lost files and folders from all major Apple iPod models including iPod Classic, Nano, Mini, Touch, Shuffle from first generation to next generation series and similar Samsung, Toshiba, Sony music player. File recovery software features provides explorer view of all recovered files before the actual recovery process in GUI interface with inbuilt user manual to explain how to recover iPod songs from various iPod models.
Software Features:
Recovers lost music files from iPod digital music player.
Compatible with all major Apple iPod audio-video player models available in the market.
Fast, easy and cost effective utility for all music lovers to recover lost files from iPod player.
No need of specified technical skills to run or operate the software.
System Requirements:
Minimum system requirements:
Pentium-class or equivalent processor
10 MB of free space
RAM (128 MB recommended)
Operating System Supported:
Windows 98, Windows NT, Windows 2000, Windows Server 2003, Windows XP, Windows Vista, Windows 7 etc.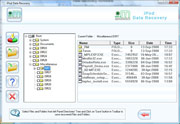 Just $69