FAT partition data recovery
FAT partition data recovery software restores deleted files and folders to ensure retrieval of data from Windows hard disk drives in all data loss cases including accidental file deletion, lost files, formatted disk, logically crashed drive and many more. Hard disk recovery software retrieves data from all types of hard disk drives including IDE, ATA, SATA, EIDE and SCSI. File retrieval software performs complete scan disk drive to restore data regardless of how they were deleted from Laptop or Desktop system.
FAT file recovery software combines with excellent GUI features provides best data recovery utility and enables you to preview the recovered files before actual recovery process. Easy to use and cost effective software is easily operated by technical or non-technical users and offers quick and affordable recovery of files without requiring any hardware or software.
Software Features:
Easily retrieve and restore lost data from hard disk of PC or Laptop-Desktop system.
Smoothly works with major branded hard disk manufacturers including Seagate, Maxtor, Western Digital and other equivalent brands.
Search, locate and save the retrieved data at user specified location in few mouse clicks.
Simple and intuitive interface helps users to perform recovery in easiest manner.
System Requirements:
Minimum system requirements:
Pentium-class or equivalent processor
18 MB of free space
RAM (128 MB recommended)
Operating System Supported:
Windows 98, Windows NT, Windows 2000, Windows Server 2003, Windows XP, Windows Vista, Windows 7 etc.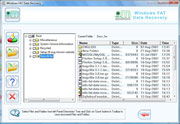 Just $69