Digital photo recovery software
Digital photo recovery software easily recovers lost digital photos, audio-video files from various removable media as well as hard disk drive. Photo recovery software is the best solution for retrieving images, pictures, photos that have been lost due to accidental file deletion, formatted media, power surges, software faults and other similar failure to access data.

Advanced Digital photo rescue tool is useful for professional photographers and digicam users to restore lost or deleted images in few mouse clicks. File recovery software easily Recovers files and provides thumbnail preview of recovered photos in user-friendly interface and allows users to save the recovered files at specified safe location without requiring any technical skills. Picture recovery utility is quality product to retrieve back your lost precious memories in easy and cost-effective way.
Software Features:
Recovers data lost or deleted from USB removable media drives and hard disk drive in easiest manner.
Retrieves files saved in jpg, jpeg, gif file formats.
Smoothly works with hard disk brands (Seagate, Quantum, Toshiba etc) and various USB drives (Canon, Sony, Hitachi etc).
Highly interactive GUI interface makes the software working easy that can be easily handled by even layman users.
System Requirements:
Minimum system requirements:
Pentium-class or equivalent processor
22 MB of free space
RAM (128 MB recommended)
Operating System Supported:
Windows 98, Windows NT, Windows 2000, Windows Server 2003, Windows XP, Windows Vista, Windows 7 etc.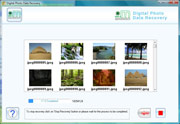 Just $69