Digital camera data recovery
Digital camera data recovery software is best tool to retrieve photos, pictures, snaps, images, audio video files accidentally deleted from your digital camera device. There may be various reasons for data loss, but advance photo recovery utility is best solution for all photographers as well as home users to rescue lost files, pictures from digital camera media.

Software retrieves data saved in jpg, jpeg, png, mpeg, 3gp, wav etc file formats from major digital camera brands like Canon, Konica, FujiFilm, Olympus, Sony, Panasonic, Phillips, Yashica etc. Support various type of digital camera including Point and shoot cameras, Novelty cameras, Specialty cameras, Digital video cameras and any other type of flash digital camera.
File recovery software offers fast, simple and secured recovery process for retrieving pictures from digital camera with support to digicams of all ranges and pixels. Software can be used by technical as well as non-technical users and allows recovered files to be saved at user specified area in text file for future reference.
Software Features:
Retrieve and restore pictures/images/digital stills/photographs from digital camera storage media.
Support all major digital camera manufacturers Kodak, Nikon, Olympus, Hitachi and other equivalent brands available in market.
Compatible with Point and Shoot camera, Novelty camera, General camera and other similar camcorder devices.
Interactive software interface makes recovery process easier even for non-technical persons.
System Requirements:
Minimum system requirements:
Pentium-class or equivalent processor
24 MB of free space
RAM (128 MB recommended)
Operating System Supported:
Windows 98, Windows NT, Windows 2000, Windows Server 2003, Windows XP, Windows Vista, Windows 7 etc.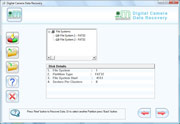 Just $69